Watch Dog Dads- Heroes of the Hallways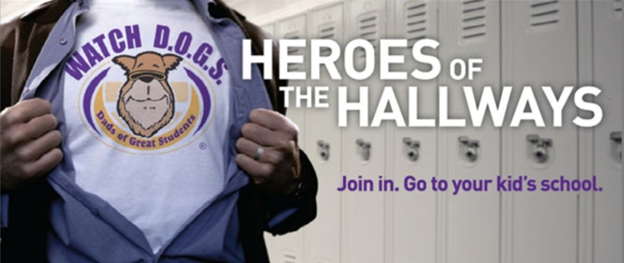 WATCH D.O.G.S. (Dads of Great Students) - Engage men, inspire children, reduce bullying and enhance the educational environment at Washington Elementary School (WES). WATCH D.O.G.S. (WDD) - is the father involvement, educational initiative of the National Center for Fathering that organizes fathers and father- figures in order to provide positive male role models for the students and to enhance WES security.
WATCH D.O.G.S. began in 1998 in a single school in Springdale, Arkansas and has since grown into a national recognized program. Today more than 4,704 schools in 46 states plus DC participate in WATCH D.O.G.S and WES has been an affiliate school for over 10 years.
Who are Watch D.O.G.S.? Fathers, grandfathers, step-fathers, uncles, and other father figures who volunteer to serve in a variety of WES activities.
Contact WATCH D.O.G.S Top Dog – Randy Werner – for more information: rwerner78@me.com 479-409-8454